News
Community involvement
Who says recycling only happens with materials? We take pride in giving back to our Wisconsin communities. From participating in community events, to sponsorships and donations, staying involved helps fuel our passion for improving our environment.
recent community involvement
New Berlin Soap Box Derby sponsor
THE RUSS SCHEFFLER TRIBUTE NIGHT
Waukesha West Ignition Program Sponsor
Waukesha County Fair Livestock Auction Sponsor
Waukesha County Fair beef barn Sponsor
Professional fire fighters of wisconsin donor
employee spotlight:
---
ANGELA W.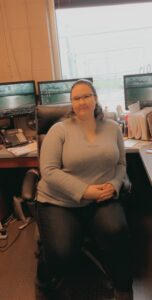 Angie started her journey with ARR in July of 2013. Her role within the company is our Dispatch Coordinator. She is the main hub of our Waukesha location where 90% of the recycled material picked up is brought in and shipped out.
When Angie was asked what she enjoys about working for ARR, she stated the employees and the friendships she has made over the years. She also likes the fast pace of Dispatch and keeping things running smooth with the trucks.
Her hobbies are baking, camping and traveling with her family. She also enjoys all the extracurricular activities her kids Tyler and Savannah are involved in. She is constantly on the go!
Angie is not only a great asset to ARR because of her attention to detail; she is also what keeps our trucks moving. Without that, we would not be able to service our accounts efficiently. She knows every account inside and out and what their needs are. She is a pivotal part of the company and we are lucky to have her.
11.22.2019
HOLIDAY RECYCLING TIPS
Clearing up the confusion about which holiday goods are recyclable can have an impressive impact on the environment.
Americans throw away 25% more trash during the Thanksgiving to New Year's holiday period than any other time of year. The extra waste amounts to 25 million tons of garbage, or about 1 million extra tons per week!
Recycle your cardboard. On Christmas morning, living rooms across the world can look a lot like an Amazon warehouse. When you're done unwrapping your gifts, be sure to break down the boxes and put them out to be recycled or take them to your local recycling facility. Don't worry about removing any tape or labels, those will come off during the recycling process. Remove all packing materials such as packing peanuts, bubble wrap and Styrofoam.
Recycle your old electronics. Get a shiny new computer or phone this holiday season? Don't toss out your old model, recycle it responsibly by bringing it to your local recycling company.
10.16.2019
RECYCLING SCRAP METAL MAKES MONEY
Many people don't know that most scrap metal can be recycled for cash payments at ARR, keeping this useful material out of landfills.
ARR deals with customers in industries that handle metal on a daily basis. For example, construction companies may have tons of steel from structures, electricians could have old wires and electrical equipment, or plumbers might have old or broken copper piping and brass fixtures that they need to dispose of. While we see a large quantity metal from the trade industry, we also welcome residential customers
By bringing your metal scrap to ARR, you can make money and recycle the materials at the right place.
Determining if you have a ferrous or non-ferrous metal and separating the two types is the first important step before bringing metal to be recycled. The easiest and most common way to figure out what kind of metal you have is by grabbing a magnet.
If the magnet sticks to your metal: You have a ferrous metal in your hands — something common like steel or iron. Ferrous metal is not worth very much when you bring it to ARR, but we will accept it and make sure it is recycled properly.
If the magnet does not stick to your metal: The metal you have is a non-ferrous metal. Many common metals — like copper, aluminum, brass, stainless steel, and bronze — are categorized as non-ferrous metals. These metals are very valuable to recycle and are worth more money.
10.01.2019
LEAVE A SMALL CARBON FOOTPRINT
Most products that are shipped to and from businesses are packaged in cardboard boxes. All told, that can be more than half its waste stream. Choosing to recycle your corrugated cardboard waste can reduce your company's ecological footprint, which can, in turn, make a sizable impact on the good of the environment. It's a perfect place to start if you're beginning any kind of sustainability effort.
What makes cardboard so special? Cardboard is made much the same as other paper – from tree pulp. It breaks down completely and can be easily stored, baled, and transported. Just one single semi-trailer can carry about 20 tons of OCC (old corrugated cardboard) – much easier than carrying a load of bulky scrap metal, plastics, or other products. Manufacturers, warehouses, and large box stores in particular produce very clean cardboard waste, with fibers that remain intact longer and thus make recycling a much easier process.
Cardboard is easy to recycle and can be reused as new paper products from five to seven times before the fibers become too short to use. One ton of recycled cardboard saves 17 trees. Imagine how many trees you'd be saving if you have just one trailer load of OCC per week.
Even though cardboard is biodegradable and recyclable, compared to organic material (leaves, food scraps, etc.) it takes much longer to break down. If a trailer load – 20 tons – of cardboard went into landfill, it would take decades to break down and would use up valuable real estate for real garbage (waste that can't be recycled). In addition, when cardboard goes into landfills, it releases methane, a greenhouse gas, into the air as it begins to break down. Recycling one ton of cardboard saves about 3 cubic yards of landfill space – or 60 cubic yards for a trailer load.
Cardboard recycling benefits the environment many times over, but it also rewards companies that choose to implement a recycling program with cost savings. You can avoid paying high disposal costs charged to transport your OCC to a landfill. Instead, turn your cardboard waste into a valuable commodity: recycling rebates could generate additional revenue for green-thinking businesses. It's pretty much a win-win – for the environment and for the businesses that recycle.
09.25.2019
office recycling 101
The amount of waste we produce is growing day by day, and our offices play a large part in it! If you start recycling in the office, not only will you help save the planet, but you can also help your company save money.
Benefits of recycling:
There are many advantages to office recycling. Protecting the environment will always be at the top of the list. Recycling at work also reduces the amount of waste that goes to landfill sites, and helps the company save money!
The United States produces more trash per capita than any other country, at 760kgs per person per year. Reducing the amount of corporate waste that ends up in a landfill is, therefore, a critical environmental priority.
Nor is it just a reduction in the amount of corporate waste going to landfill that benefits the environment. The energy savings are enormous. Creating a single aluminum can from recycled materials reduces the energy used to produce that can by 95% when compared to making it from virgin bauxite ore. Meanwhile, recycling a ton of office paper saves:
4,100 kWh of energy
7,000 gallons of water
9 barrels of oil
54 million BTU's of energy
Saving Money Through Recycling:
Office recycling also has a host of other advantages. For many companies, the ability to save money through recycling in the workplace is a significant incentive.
Reducing the amount of waste produced can mean reducing the cost of dealing with that waste. A comprehensive recycling program can, therefore, lead to savings that would tempt even the least environmentally friendly management team.
Ensuring that every printer and photocopier in the company is set to double-sided printing by default is also a simple yet effective way of reducing the amount of paper sent to landfill. Despite that, some 45% of used office paper is still ending up in the trash rather than being fed into recycling programs. Across the globe, this means that more than a trillion sheets of paper are needlessly sent to landfill every year.
09.03.2019
E- WASTE RECYCLING
Rapid turnover in computer technology is having a troubling side effect. Each year in the United States, 5 to 7 million computers, televisions, stereos, cell phones, electronic appliances and toys come to the end of their useful life.
What are the toxic and hazardous materials in electronics?
Lead cadmium, and other metals from cathode ray tubes found in monitors and televisions
Chromium, lead, beryllium, mercury, cadmium, nickle, zinc, silver and gold found in printed circuit board components.
Nickle, cadmium, lithium, mercury and lead from batteries found in CPUs, laptops and portable printers
Mercury from relays and switches found in CPU monitors and terminals
What E-Waste is banned from Wisconsin landfills?
On September 1, 2010, the following electronics were banned from landfills and incinerator disposal: computers, printers, fax machines, DVD players, VCRs and other video players, phones with video displays (cell phones)
E-Waste FAQs
Why shouldn't outdated devices be sold?
Selling outdated devices can put your data at risk even if you've erased them. A study by the National Association for the Information Destruction (NAID) found that 40 percent of used electron devices sold on the secondhand market contained personally identifiable information.
Can outdated devices be disposed in waste or recycling bins?
No, under Wisconsin law, disposal of any computers, printers, video display devices, FAX machines, DVD players, VCRs, and phones with video displays (cell phones) is prohibited. Putting E-Waste in the recycling or waste bins can disrupt municipal recycling efforts and increase the cost of your business' recycling program.
Links for more information
Wisconsin Department of Natural Resources Electronics Information
Associated Recyclers of Wisconsin (AROW) Wisconsin
08.23.2019
arr is excited to announce the new additions to our fleet
We have been busy expanding our footprint in Wisconsin as one of the leaders in Recycling.
In order to keep up with the demand of our customers, ARR needed to add a few more trucks to its fleet. We are happy to announce that we have added a new semi tractor as well as a new roll off truck. Semi truck #29 is a Peterbilt and #13 is our newest roll off which is also a Peterbilt. Being able to provide the best service to our customers in a timely manner has always been one of ARRs main goals. As we continue to grow as a company, so does our fleet.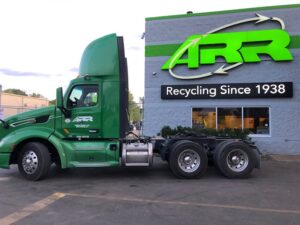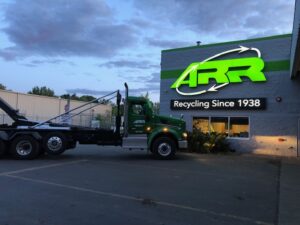 08.13.2019
arr is a proud sponsor of the waukesha country fair junior livestock auction
The Junior Livestock Auction is the culmination of a year's project for 4-H and FFA members. These young men and women have selected, fed, and groomed steer, lamb, poultry, rabbit, goat, or pig as a learning and business venture. They project is brought to the Fair to be judged, graded, and sold. Support of the auction provides recognition for young adults to earn college funds, purchase more animals, and receive practical training in business and agriculture
ARR has been a primary sponsor of the Junior Livestock Auction for over 15 years. Owner Phil Rehberg believes in all the hard work these kids put in to their animals and enjoys playing a major role in promoting this event. Every year he is front and center to bid on these animals. This year, despite the fierce bidding, he was the high bidder on the Reserve Champion Market Hog. ARR also sponsors the Beef Barn at the fair.
05.16.2019
ARR to sponsor the russ scheffler tribute night latemodel special
Three years ago Chad Marquardt and Greg Wester decided that they were going to pick a night at Plymouth every year and get some sponsors together to increase the purse for the Late Models, top to bottom for every position. Shortly after Russ Scheffler had passed away in September 2017, Plymouth Dirt Track Racing said that they were going to do an event to honor him. Chad and Greg immediately knew that this was going to be the night they added money to the purse!
In 2018 Chad and Greg managed to raise enough money throughout the sponsors and fans to raise the payout for the Dirt Late Models up to $2274 to win and $300 to start the race with non-transfers taking home $200. Every driver that participated in the event went home with a nice pay increase over the weekly pay.
For 2019 Chad and Greg will be having the race at the Plymouth Dirt Track again, only this year it will be on Friday June 28th, 2019. They hope to have another great event in 2019 to honor one of the best racers in our area, Russ Scheffler.
Allied Resource Recovery is proud to be the presenting sponsor for this year's race. Owner Phil Rehberg has a long history with dirt track racing as well as racing alongside Russ Scheffler. Phil wanted to honor his fellow competitor, and what better way than to sponsor this great event.
04.12.2019
ARR Earth Day Celebration
ARR will be celebrating Earth Day at all 3 locations on Monday April 22nd. Each customer will receive a small token of our appreciation for helping ARR with their efforts in sustainability.
Dates for drawings and games are as follows:
MARCH 25 FOR GAME AGAINST CARDINALS ON 3/31 @ 1:10PM- WINNER IS BENJAMIN P OF NEW BERLIN
APRIL 15 FOR GAME AGAINST DODGERS ON 4/20 @ 6:10PM
APRIL 29 FOR GAME AGAINST METS ON 5/5 @ 1:10PM
MAY 20 FOR GAME AGAINST PHILLIES ON 5/26 @ 1:10PM
JUNE 3 FOR GAME AGAINST PIRATES ON 6/8 @ 3:10PM
JUNE 17 FOR GAME AGAINST REDS ON 6/23 @ 1:10PM
JULY 8 FOR GAME AGAINST GIANTS ON 7/13 @ 6:15PM
JULY 22 FOR GAME AGAINST CUBS ON 7/28 @ 1:10PM
AUGUST 5 FOR GAME AGAINST RANGERS ON 8/10 @ 6:10PM
AUGUST 19 FOR GAME AGAINST D-BACKS ON 8/25 @ 1:10PM
SEPTEMBER 16 FOR GAME AGAINST PIRATES ON 9/21 @ 6:10PM
03.13.2019
ARR is giving away Brewers Tickets
ARR has baseball fever and will be giving away a 4-pack of Milwaukee Brewers Tickets (includes parking pass) throughout the months of March through September. No purchase necessary. Enter daily at Waukesha, West Allis and National Salvage locations. Must 18 years or older at the time of entry.
Dates for drawings and games are as follows:
MARCH 25 FOR GAME AGAINST CARDINALS ON 3/31 @ 1:10PM- WINNER IS BENJAMIN P. OF NEW BERLIN
APRIL 15 FOR GAME AGAINST DODGERS ON 4/20 @ 6:10PM- WINNER IS JEFF K. OF WEST ALLIS
APRIL 29 FOR GAME AGAINST METS ON 5/5 @ 1:10PM – WINNER IS MIKE B. OF GREENFIELD
MAY 20 FOR GAME AGAINST PHILLIES ON 5/26 @ 1:10PM – NICHOLAS T. OF GREENFIELD
JUNE 3 FOR GAME AGAINST PIRATES ON 6/8 @ 3:10PM- DAVID C. OF WAUKESHA
JUNE 17 FOR GAME AGAINST REDS ON 6/23 @ 1:10PM- WINNER DID NOT WANT NAME MENTIONED
JULY 8 FOR GAME AGAINST GIANTS ON 7/13 @ 6:15PM- TIM R. OF WAUWATOSA
JULY 22 FOR GAME AGAINST CUBS ON 7/28 @ 1:10PM- GERALD K. OF MILWAUKEE
AUGUST 5 FOR GAME AGAINST RANGERS ON 8/10 @ 6:10PM- TIM K. OF WEST ALLIS
AUGUST 19 FOR GAME AGAINST D-BACKS ON 8/25 @ 1:10PM- SHAWN K. OF WEST ALLIS
SEPTEMBER 16 FOR GAME AGAINST PIRATES ON 9/21 @ 6:10PM- ALBERT G. OF WAUKESHA
11.14.2018
GMtoday Covers ARR's 80 Years of Business
Allied Resource Recovery is celebrating 80 years of providing service to residential customers, businesses and contractors.
WAUKESHA – Allied Resource Recovery, Inc. (ARR), Wisconsin's largest independently and family owned, full-service recycling company, has marked a major milestone, 80 years in business.
It was in 1938 when Donald Rehberg Sr. started West Allis Salvage Co. He operated the company through the 1970s. In the early 80s his son Phil Rehberg along with his wife Virginia took over the company. Phil, Virginia and Don Sr. continued a steady growth plan that included entering municipal recycling and expansion of collecting printers' waste.
In 1990, Shapiro Paper and Metal was purchased. In 1992, several municipal recycling contracts were won and a major expansion and facelift took place at the West Allis location, which included closing the Shapiro facility.
Business growth continued to snowball and in 1998 The Waukesha Recycling Co. was born. In 2007, the Rehbergs became a managing partner with National Salvage.
The recycling facilities located in West Allis and Waukesha are now flying under Allied Resource Recovery, Inc. with the third generation of the Rehberg family, Erin Rehberg-Brouwers joining the ARR sales and marketing team.
ARR provides service to residential customers and contractors through its door trade operation at all 3 locations. Dropping off your aluminum cans and scrap metal is made simple and fast.
They also provide service to businesses looking to turn their recyclable material into a revenue stream. As a full service environmental asset management company, ARR offers multiple options tailored to each individual business. An additional offering is Product Destruction Services, to cost-effectively eliminate unwanted and unsellable inventory while ensuring that it will never be used by others.
Recently ARR has made updates to their Waukesha and West Allis locations and their website.
"West Allis and Waukesha have received a fresh new look, which includes paint and signage to help mark ARRs 80th Anniversary and to embrace the branding of Allied Resource Recovery Inc.," said Brouwers. "A new website has also been created with helpful information for all of ARR's locations."
"We see ARR continuing to be stewards in sustainability and growing its presence in the region and maintaining high quality relationships with our customers. As one of the leading recycling companies in Wisconsin, we are dedicated to continuing on the path of green initiatives," said Brouwers.
09.05.2018
Celebrating 80 years with customer appreciation
Each of ARR's four locations will be hosting a Customer Appreciation Day in honor of 80 years in business.
Starting October 1st, ARR will be celebrating 80 years of service. What started out as a small scrap yard in 1938 by Donald Rehberg has turned in to a full-service recycling facility with four locations serving Wisconsin residents.
With a new look to our Waukesha and West Allis locations, as well a new website, ARR is moving forward as being one of the top recycling companies in Wisconsin.
We are beyond appreciative of the support of our customers and community – without them, ARR would not be where it is today. To show our appreciation, we will be hosting a Customer Appreciation Day at each of our four locations. Anyone who brings in recyclables will receive a complimentary lunch served by our ARR team. Customers will each be offered a hot dog with chips and soda or water.
Learn more about our event, including location dates and times, by visiting our Facebook page.
08.28.2018
ARR to sponsor "Talkin' Football with Santana Dotson" on WHQG 102.9 the hog
ARR kicks off the football season as a sponsor for segment, "Talkin' Football with Santana Dotson".
Allied Resource Recovery (ARR) is proud to announce that it has become the sponsor for the "Talkin' Football with Santana Dotson" segment on the Bob and Brian Show broadcasted on 102.9 the HOG in Milwaukee. ARR will sponsor the segment for the entire 2018-19 football season.
"Many ARR customers are football fans and Bob and Brian listeners. This sponsorship is a great way to reach them and expand our customer base." stated ARR CFO Steve Iggens.
The segment airs Mondays around 7:45am on 102.9 the HOG, WHQG and is replayed on Tuesday mornings around 6:30am.
Allied Resource Recovery has been recycling since 1938 and operates four locations where they will purchase your recyclable metals. For more information please visit www.arr1938.com.
03.01.2018
ARR to sponsor brewers radio network for third consecutive year
Allied Resource Recovery is all about supporting the Milwaukee Brewers and America's pastime.
For the 2018 Brewers Season, ARR will participate in all 176 broadcasts, including 14 spring training games and 162 regular season games. This season marks the third consecutive year of sponsorship for the baseball-loving recycling company.
ARR is also the main sponsor of the Brewers Field Condition report with Bob Uecker. Tune in before the first pitch of every game to hear how the field is fairing!
12.17.2013
Rehberg Family Expanding Recycling Operations, Announces Allied Resource Recovery, Inc. (ARR)
West Allis Salvage, Inc. and The Waukesha Recycling Co. combine to become ARR.
Phil Rehberg, ARR owner and operator, has announced the rebranding of the family recycling facilities located in West Allis and Waukesha, which are now flying under Allied Resource Recovery, Inc. or ARR.
"We are now a full service environmental asset management company. This is why we were compelled to choose a name that better describes who we are," says Phil Rehberg, owner and operator.
After seventy five years in business, West Allis Salvage has grown beyond its humble beginnings. Started in 1938 by Donald Rehberg, the company has grown to be Wisconsin's leader in recycling. "We've come a long way from the little junkyard in West Allis. We now own and operate two plants in Wisconsin: West Allis Salvage and the Waukesha Recycling Company," says Rehberg.
The recycling business has grown to be focused on the major environmental issues of our times. Rehberg explains, "Today we stand in the forefront when it comes to green initiatives, sustainability and zero waste goals. Our experience allows us to design recycling programs for businesses to achieve their green goals."
ARR, Inc. is positioned for growth and is poised to fill the gap in waste management services. Rehberg adds, "We are now a full service environmental asset management company. This is why we were compelled to choose a name that better describes who we are. 'ALLIED' stands for all of our locations who are allies in the collection of recyclables and 'RESOURCE RECOVERY' highlights our efforts to recycle, reuse and conserve this generation's resources for tomorrow's generations."
ARR has strengthened its capacity to manage the needs of very large corporations. Rehberg boasts of ARR, "Today we recycle over 200,000,000 pounds of metal, paper, plastic and other material each year. We also supply materials to markets all over the world."
ARR, Inc. manages environmental asset services to both small and large companies. For more information about ARR, Inc. and environmental asset management, please visit alliedresourcerecovery.com or phone (262)-574-0100.